I'm continuing book review week with a look at Norris Chumley's Mysteries of the Jesus Prayer. The project represents eight years of work on a documentary about the monks in the Eastern church who commit themselves to saying a simple prayer:
Jesus Christ, Son of God, have mercy on a me, a sinner.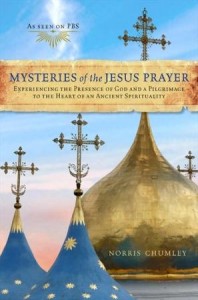 I first ran into this prayer about six or seven years ago at a church service that emphasized prayer and meditation. While I appreciated it then, reading this book about the way monks and nuns use it in seeking of God drove home how vitally important it can be.
The book unfolds as a series of journeys to various monasteries throughout the Eastern church, beginning at St. Anthony's cave and the monastery below it. Part travelogue, part history of mysticism, and part manual on prayer, the book introduces places and concepts that may be new to some Christians in the west.
Perhaps most striking of all is the consistent way that monks and nuns feel unable to put into words the intimacy of God's presence. The Jesus Prayer helps them focus on God, and in their solitude they gain something that I sense many people know little about.
The book is both interesting reading and spiritually encouraging. I found myself regularly feeling a nudge to say the Jesus Prayer while reading this book. Reading about men and women who are experiencing the joy of God's presence is a great motivator for deeper spiritual discipline.
The fact that so many monks were willing to offer their perspectives on prayer is particularly encouraging, although there is a sort of underlying tension throughout the book about whether the typical person with a day job can truly meet with God on the same level as a monk whose day (and night) job is prayer.
Without a doubt, this book accomplishes its goal in making the Jesus Prayer more accessible for a wider audience. The writing is accessible, even if the story drags a bit at times with accounts of actually getting to the monasteries.
For readers looking for a fresh perspective on prayer, some advice on simple devotional practices, and a bit of history that many in the west overlook, Mysteries of the Jesus Prayer is an excellent option.
More by Norris Chumley
The Compelling Spiritual Discipline of Asceticism
Other Stops on the Blog Tour:
Tuesday, April 12th: Joy in this Journey
Wednesday, April 13th: Oh Mandie
Thursday, April 14th: Naptime diaries
Monday, April 18th: Elizabeth Esther
Tuesday, April 19th: Mom's Mustard Seeds
Wednesday, April 20th: O me of little faith
Thursday, April 21st: The Pilot's Wife
Friday, April 22nd: Diary of a Stay at Home Mom
Monday, April 25th: Walking in His Grace
Tuesday, April 26th: In the Heart of My Home
Wednesday, April 27th: In a Mirror Dimly
Thursday, April 28th: My Heart's Desire
Friday, April 29th: A Minute Captured
Disclaimer: A free review copy was provided by TLC Book Tours.